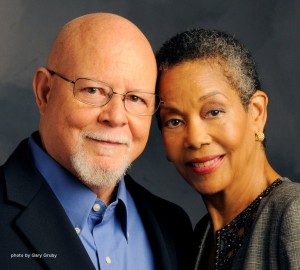 Barbara and Carlton Molette, members of the Dramatists Guild since 1971, recipients of the National Black Theatre Festival's Living Legend Award, Working Title Playwrights' Ethel Woolson Award for their play LEGACY, the Black Theatre Network's Lifetime Membership Award, and the Connecticut Arts Council Award for their play PRUDENCE. They have co-authored plays, scholarly articles and two books– Black Theatre: Premise and Presentation, and Afrocentric Theatre. They began playwrighting collaborations with ROSALEE PRITCHETT, presented by the Negro Ensemble Company in New York, the Free Southern Theatre in New Orleans and on tour, several university theatres, and published by Dramatists Play Service and in the anthology Black Writers of America.
Their full length plays include DR. B. S. BLACK, a musical in collaboration with Charles Mann with Samuel L. Jackson in the title role at Atlanta's Peachtree Playhouse produced by Theatre of the Stars and Just Us Theatre with additional productions in Washington, D. C., Houston, and Memphis. NOAH'S ARK (published in Center Stage) and BOOJI premiered by Atlanta's Morehouse-Spelman Players. FORTUNES OF THE MOOR premiered at New York's Frank Silvera Writers' Workshop with over a dozen later productions including Ghana's National Theatre Company; Chicago's ETA Creative Arts; and Brown, Ohio State, Western Michigan, Louisville, Pittsburgh and Connecticut universities. Miami's M Ensemble premiered OUR SHORT STAY in 2005. PRUDENCE premiered at Connecticut Repertory Theatre in 2006. PRESIDENTIAL TIMBER premiered at Houston's De Luxe Theater in 2016 after readings at the National Black Theatre Festival, New York's New Federal Theatre, Bowie State University at the Kennedy Center and New Life Productions in Columbia, SC.
Premieres of ten minute plays include OUT OF TIME at New York's Turtle Productions in 2011; MOVE THE CAR in 2012 at the Warehouse Performing Arts Center, NC; TEE SHIRT HISTORY at Atlanta's Essential Theatre in 2012; A FOND FAREWELL at Greenbrier Valley Theatre in WVA in 2014; LAST SUPPER in 2013 and KIN SHIP in 2014 at Houston's Fade to Black. Other short plays include WIDGETS, SILVER TONGUE, DO YOU CARE ENOUGH? and THE GREAT XMAS RACE.
Barbara J. Molette (B.A., Florida A. & M. U., M.F.A., Florida State U., Ph.D., U. of Missouri), Professor Emerita, Eastern Connecticut State U.; taught at Spelman College, Texas Southern U. and Baltimore City Community College where she was Director of Writing Across the Curriculum. Administrative Fellow, Mid-Missouri Associated Colleges and Universities; Director of Arts-in-Education Programs, Mayor's Advisory Committee on Art and Culture in Baltimore and English Department Chair, Eastern Connecticut State.
Carlton W. Molette (B.A. Morehouse College, M.A., U. of Iowa, Ph.D., Florida State U.) Professor Emeritus of Dramatic Arts and African American Studies, U. of Connecticut; taught at Spelman College, Florida A.&M., Howard, Atlanta, and Texas Southern Universities; Division of Fine Arts Chair, Spelman; School of Communications Dean, Texas Southern; Dean of Arts and Sciences, Lincoln (MO), and Vice President for Academic Affairs, Coppin State.