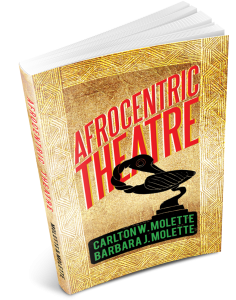 The term "Afrocentric" is a more comfortable part of the American lexicon than it was twenty years ago. While the terms "Black" and "Afrocentric" seem to be used almost interchangeably, evolving social discourse recognizes subtle differences between the two terms. The term "Black" is more suggestive of the physical characteristics associated with race, whereas the term "Afrocentric" is fundamentally based in culture and point of view.
Afrocentric Theatre continues our quest to enhance thinking about and understanding the nature of Afrocentric theatre as expressions of culture and media for communicating values. Our effort to describe Afrocentric theatre and culture is not intended to prescribe rules for what is or is not Afrocentric or Black. Our goal remains to honor Afrocentric theatre and Afrocentric culture without dishonoring any other theatre or culture, to describe without devaluing. Variances exist within and across cultural groups. These variances do not indicate that any one person or group is better or worse or inferior or superior to any other.
This book is divided into two sections. Part 1, "Premise," describes terms and concepts that aid in examining Afrocentric theatre from an Afrocentric point of view. Essential to that discourse is understanding how culture and values shape points of view, which in turn shape interpretations and evaluations of theatre arts. Afrocentric theatre deserves to be defined, interpreted, and evaluated in a context of Afrocentric culture and values.  Interpreters and evaluators shape the standards they use to interpret and evaluate creative works. But their results are immaterial, no matter how sincere, if their culture and values differ significantly from those of the artist and the audience for whom the work of art is intended.
Individuals purported to be experts often praise or discredit work by asserting the presence or absence of universality or objectivity or both.  Using objectivity and universality as standards for determining a work's worth says very little about the work itself and exposes a great deal about the evaluator's cultural biases, especially when the work's creator and intended audience are culturally different from the evaluator. Since we say objectivity and universality are "myths," and since the term "myth" is sometimes used to infer fiction or falsehood, we need to explain the context in which we use the term.
Buy the Book Now!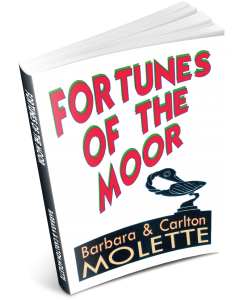 Shakespeare's Othello concludes with Desdemona's kin planning to "…seize upon the fortunes of the Moor…." Fortunes of The Moor supposes Desdemona, disowned by her father, takes refuge at a convent and gives birth to a son. After the Venetian victory in Cyprus under Othello's command, Desdemona leaves their infant son at the Venetian convent and joins Othello in Cyprus.
The play is set in Othello's home village where an African griot tells the story. Othello's family journeys to Venice to find Othello's son and raise him as their own while Desdemona's kin connive to claim Othello's fortune by deceit, kidnapping, and murder.
Premiere in New York at the Frank Silvera Writers' Workshop:
AUDELCO Writers'/Directors' Award.
Chicago's ETA Creative Arts production:
"More power to the authors for illuminating the troubling issues of race behind 'Othello' in such an original and provocative fashion…. This play has dignity, gravitas, and a poignant finale."
– Chris Jones, Chicago Tribune
Abibigroma [Ghana's National Theatre Company] presented the play at the Drama Studio, Legon; the National Theatre, Accra; and the Pan-African Historical Theatre Festival, Cape Coast.
"Artfully compressed within this story is a tale of lies, intrigue, cunning greed and murder as the battle of wits and nerves rages on."
– Gordon Adjei, High Street Journal
Buy the Book Now!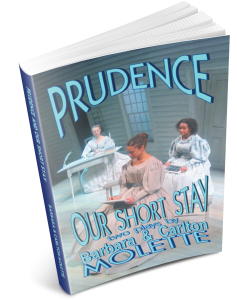 Both Prudence and Our Short Stay were inspired by actual events involving Prudence Crandall and the young ladies of color who studied at her Academy in Canterbury, Connecticut from April 1, 1833 to the school's brutally sudden closing on September 9, 1834.
Prudence is a full-length play that sees Prudence allow a young African American woman named Sarah Harris to enroll in her Academy, originally established for young White daughters of the landed gentry.  After persuasion, threats, and students withdrawing from the school, Prudence makes a choice. She gains support from some important abolitionists, closes her school, and reopens as an academy for "young ladies and little misses of color." Her action unleashes a firestorm of bigotry.  Several powerful citizens seek to destroy the Academy by legal means, and anonymous vandals subject the Academy's inhabitants to random acts of terrorism. Prudence is arrested and jailed for violating a law created for the sole purpose of closing her Academy; but she and her students remain resolute as they endure three trials, and several violent and malicious attacks, including arson.  After a wanton invasion nearly destroys the Academy, the Board decides to close the school.
Our Short Stay is a one-act play based on the same historical facts as Prudence but the story is seen through the present-day experience of Sarah, a high-powered executive who does not "give back to her community" in the manner that adheres to the traditional idea that "to those whom much is given, much is expected."  Sarah's life focuses totally on making money for herself and her employer.  Julia, her guide and ancestor, Julia takes Sarah back in time and place to show her how those who came before her struggled and sacrificed to obtain whatever formal education they could.
Buy the Book Now!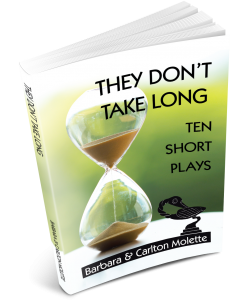 Over the years, one question about every play we have written has been raised repeatedly and persistently – "What inspired you to write this play?" So, what inspired us to write ten-minute plays after forty years of writing non-fiction stuff and longer plays seems like an appropriate subject for this foreword. When I was an undergraduate, my mentor took several of his students to a play at a nearby college. We quickly realized the production did not meet the standards he expected of us. On the trip back to our campus, one of us asked our mentor what he thought of the production, he replied without hesitation, "The best thing about it was it didn't take long." No matter what conclusion one reaches about the quality of the plays in this volume, the inescapable fact is: THEY DON'T TAKE LONG.
Buy the Book Now!